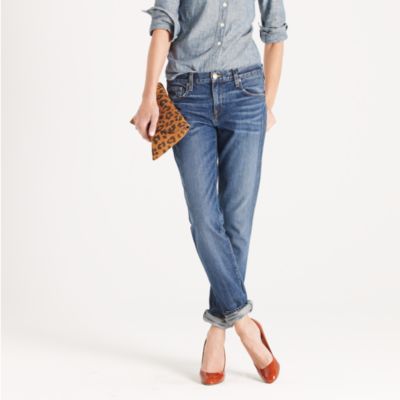 I love denim. I can remember my first "baby's" as I called them. They were a perfectly rinsed vintage pair of Levis. They were men's circa 1980. Worn in all the right places, super soft denim and the wash was perfection. I think I wore them almost every day for my last three years in college. I joke. But it was pretty close.
They did not survive, and to this very day, I am still searching for that exact wash. I have way too many pairs of jeans. In the 100s. Actually more than that. I can only fit 10 of them now. Or close to it. I refuse to give them up and they are stored lovingly away for my daughters to wear when they are older. I know they will dig them. You name the brand, it is in one of those bins. They will be vintage for them!
But the approaching fall always has me looking at denim. I prefer non-stretch. Like I said, I am old school, so 100% cotton is my thing, but they are impossible to find now.
For almost 5 years, my college roommate and I had a boutique. Our focus was premium denim. I can spot a fake pair of premium denim from a mile away. I can tell you the better hand of the cotton, which area will stretch first, how to properly care for your denim if you want them to last for decades, and on and on. I was always drawn to the wash first and foremost. Does any of this really matter in the grand scheme of life? Absolutely not.
Here is what is catching my eye now.
I love my MiH jeans. I have a few of the Paris style. I purchased mine on sale. I think this is becoming my favorite brand. Their website is always updated and their sales are very good. The denim is extremely soft and the pocket placement is very unique. They are based in London and the backstory to the company is very cool. The folded denim picture is a newer style.  I do not own this pair, but I love the wash. This is their version of the boyfriend fit. Their Sugarland fit is what is on my wish list. I am on a spending freeze, so it is a dream wish list. I have the second pic of MiH, London fit. It has such a soft hand. They do have one style that is a vintage fit 100% cotton. But it is a cropped style.

7 For All Mankind to me is one of the lines that has the perfect boot cut style. I purchased my first pair in the late 90s and they are still going strong.
Paige was one of our best sellers. The designer was a former fit model for the very first premium denim lines. She truly understands how jeans fit different body types. She is definitely one of my go to jeans.
The brand Mother Denim has become more popular. I think they really hit the streets in LA first. I have a pair and I love them. They do have stretch, but the cotton is unbelievably soft. I am excited to see what they have coming up for Winter.
No matter what your price point or style, I am sure there is a perfect pair for you out there. From Mother Denim, J Brand, Gap, AE, or Citizens of Humanity, it is out there for you.
image 1 via  J.Crew. image 2 via Citizens of Humanity Ava Straight Leg Jeans | SHOPBOP. image 3 via Gap.   image 4 via Designer Clothing | Shop MiH Jeans at NET-A-PORTER.COM | NET-A-PORTER.COM. image 5 via MiH Jeans image 6 via 7 For All Mankind – Search Results for denim. image 7 via Paige Denim Official Site. image 8 via shopbop.com